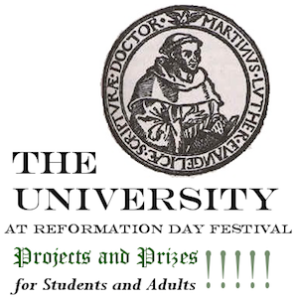 A Project Competition for Students of All Ages
Project check-in: 6:30-6:45
Before becoming an Augustinian friar, Martin Luther was a law student at Erfurt University. He had earned a Masters degree by age 22. This is the inspiration for "The University," a contest where students of all ages can submit projects showcasing something they have learned about Martin Luther or the Reformation/Renaissance.
Historic events, famous people, everyday life, art, music, architecture, science, weaponry, geographic exploration, inventions, government, religion, philosophy, or any subject that interests the student may be featured.
Projects may be entered in the following categories:
K-2
Grades 3-5
Grades 6-8
Grades 9-12
Adult
Limit 2 projects per person.  Group projects may be submitted in the age category of the eldest team member, and count toward the 2-project per-person total.  The "University Chancellor" will judge the entries and a choose a winner in each category.
Possible projects include, but are not limited to:

Posters
Timelines
Models
Sculpture
Painting/Drawing
Maps
Pictorial Reports

Picture Books
Illuminated Script
Calligraphy
Notebooks
Creative Writing
Book Reports
Research Papers

Poetry
Hymns
Original Music
Original Scripts
Multimedia presentations
Period Crafts
Period Food
Projects must include a label which states
Your name
Grade category
Project title
A brief explanation of the project's relevance to the time period.
All "University Students" receive a "diploma" of participation. Winning entries in each category will be marked at the "University" display tables and awards may be picked up at the Welcome Booth after 8:00 PM.